JEWELRY STYLE GUIDE
Curating, wearing, and caring for your jewelry collection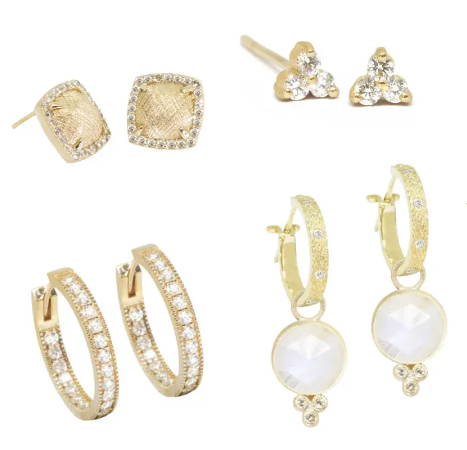 What's the difference? Fine jewelry is made from precious metals like platinum, gold, and sterling silver, and genuine gemstones like diamonds, sapphires, and tourmalines. The metals used to create fine jewelry are stronger, and therefore lend themselves to engraving techniques and the production of intricately detailed designs and silhouettes. Fine jewelry is more labor intensive and therefore usually costs more than other types of jewelry but these pieces are built for longevity. The Metropolitan Museum Art staged a smash exhibit a few years ago called Jewelry: The Body Transformed, which included jewels and ornaments spanning 5,000 years of World History. As the exhibition's curator Melanie Holcomb notes in the exhibit's accompanying catalogue: "As a statement of taste and a means of projecting aspects of the self onto the larger world, jewelry, like fashion, is an ostentatious art. Yet even the finest textiles of fashionable dress are mere ephemera when compared with jewelry, which is designed to endure." We couldn't agree more.
Fashion jewelry, also known as costume jewelry, is made with electroplated base metals like brass and steel and the stones are made of glass or crystals. Some costume jewelry, if it's licensed for a RTW fashion label, or a couture fashion design house, isn't what you'd call cheap. A lot of it, especially if it's vintage, and made in France or Italy, is highly collectible and fun. But this is not what is sold in trendy fast fashion shops. That stuff is not made to last, but rather, to satisfy a quick fix. It doesn't have that precious, lasting, meaningful quality that's intrinsic to fine jewelry.
At Nina Wynn, believe that fine jewelry can accessibly-priced and fashion-forward. So we focus on pieces like earring hoop charms that pair back with, and layer, with each other. So you can grow a collection that allows for creating multiple looks. It's high-quality fine jewelry, with genuine stones and precious metals—it's an investment, but it also answers that need for something fresh, current, and super chic.
---
EVERY PIECE OF JEWELRY TELLS A STORY
- GEM HUNT-
---

JEWELRY
BECAUSE ROSES DIE & CHOCOLATES GO STRAIGHT TO THE HIPS
SUBSCRIBE TO RECEIVE THE JEWELRY LATEST UPDATE
---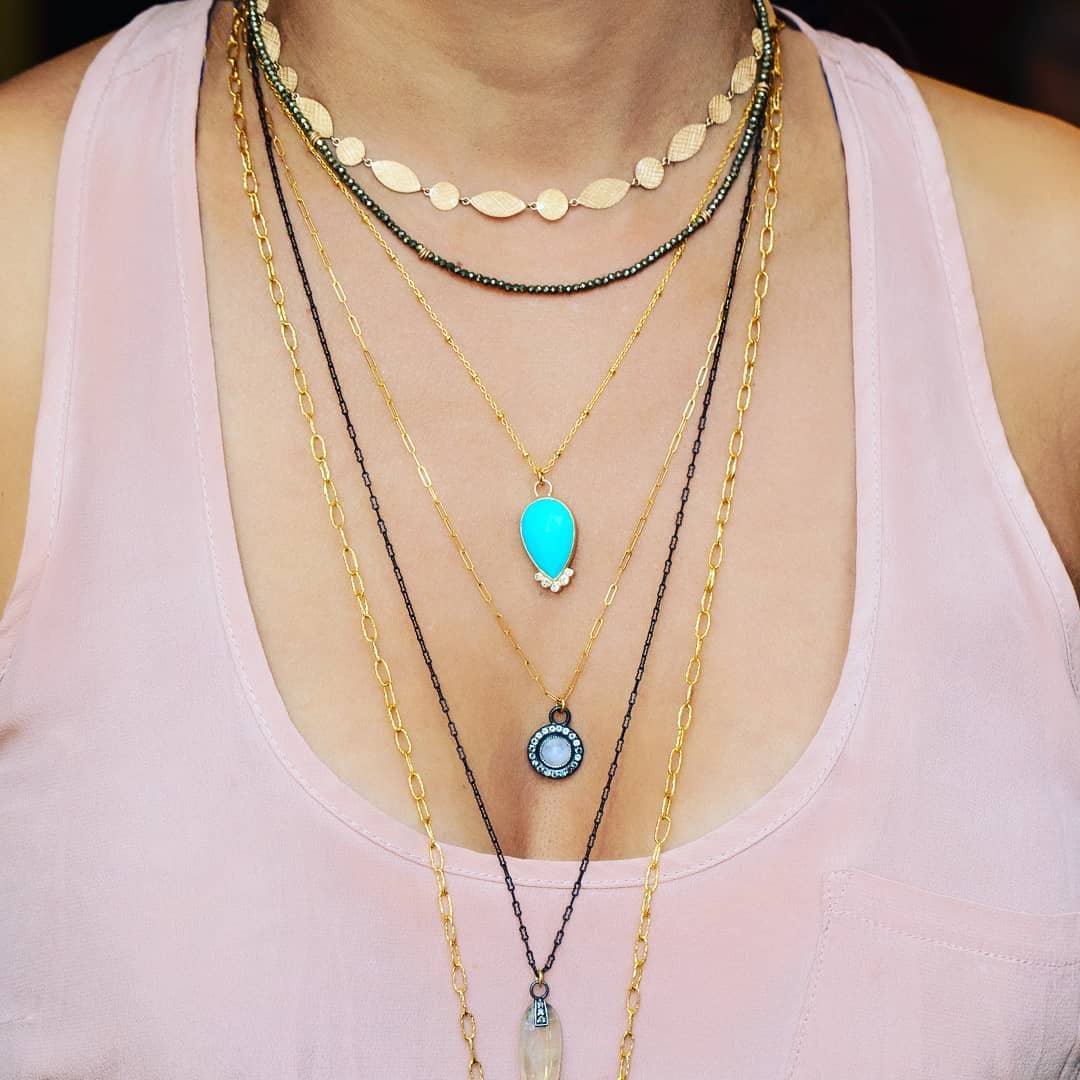 What is a good necklace length?
14" Necklace is a good choker length
16" Necklace sits right at the base of the necklace. A good necklace for petite women and a choker length for plus size women.
18" Necklace is the most popular length for pendant necklace. Try to find one with at least 1" of extender so you could wear it as a choker too.
20" Necklace sits below the collarbone. Also, a men's average size necklace length.
22" Necklace sits below the neckline
24" Necklace fall below any neckline
36" Necklace hangs below the bosom, these necklaces can be worn as a long single or double them up for an 18" necklace.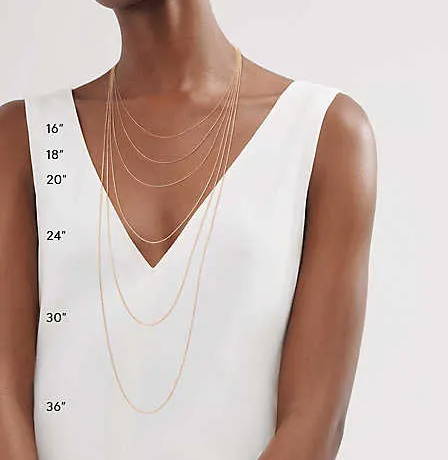 JEWELRY CARE & CLEANING TIPS
The best way to maintain the shimmering good looks of your fine jewelry is to take it to your local jewelry store for an ultrasonic or steam clean. This is also a great opportunity to have the jeweler make sure the stones are in good condition and that the prongs holding them in place are still intact. Once every six months should do it, and it's never a bad idea to pop into a jewelry store for something like this—you can do a little shopping, add things to your wish list, see new products. And you walk away with your earrings or ring looking brand new.
There are lots of jewelry cleaners on the market for when you want to clean your jewelry at home, but Nina's favorite home remedy gets great results. Follow this simple recipe:
 

1 Tbsp salt

 

1 Tbsp baking soda

 

1 Tbsp dish detergent

 

1 cup of hot water
Combine ingredients in glass bowl and soak jewelry for 10-15minutes. Use a toothbrush to gently scrub, give it a rinse, and gently pat dry with a paper towel.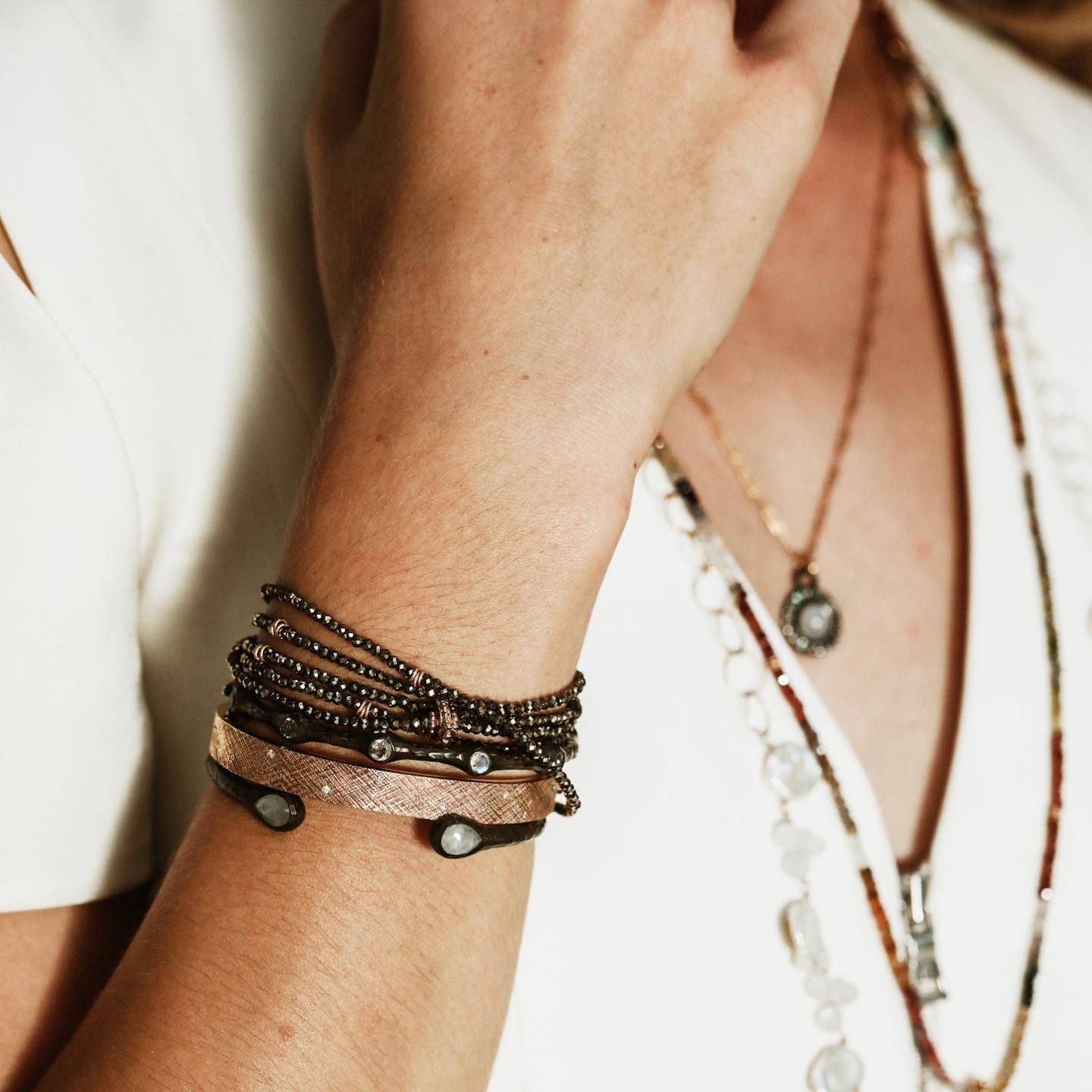 If you're on this site, we probably don't need to tell you why jewelry makes the perfect gift. But if there is someone who needs convincing, we'd direct them once again to substance and permanence that such comes with giving jewelry as a gift. We can't think of an occasion that isn't appropriate for giving jewelry as a gift: Christmas and Hanukkah, Valentine's Day, Mother's Day, plus birthdays, anniversaries, and graduations, or just because it's Tuesday and you want to spoil that special person in your life. Including yourself.
Flowers die, sweets go straight to the hips, but jewelry lives on as a constant reminder of the occasion on which it was given, and the person who gave it. No fit issues (if you know your ring size), and its tiny nature means it's the kind of thing you can collect with wild abandon without having to rent a storage unit. Plus, if you're moving, it's easy to pack up and take with you. No heavy boxes!
And even if your person is "not a jewelry person" that's probably because she has an idea in her head that it's all about ostentatious diamonds or piles of tacky gold chains. There is so much understated, effortlessly elegant jewelry out there and jewelers will be happy to show you the options. And of course there's plenty here, just a click away. If you're not sure what direction to go, think small and neutral. Should we start with some earrings?
One last thing: Jewelry is joy! It brings happiness to the person wearing it, but also to the people who see her wearing it. Not just the person who gifted it to her (huge smile every time—that's a promise!) but, literally, admirers in the street, in line at the grocery store, at the nail salon.
Need ideas? Contact us via chat or email—we're always here to help you find the perfect gift.
---
Understanding Metal Purity
Pure gold is too soft and malleable for use in fine jewelry, so it's always blended with a harder metal to make it stronger and more durable. Most gold jewelry, including ours, comes in 14k and 18k variations. The "k" is short for karat and refers to the gold content and purity.
14k gold is contain 58.3% of gold purity
18k gold is contain 75% of gold purity
22k gold is contain 91.70% of gold purity
24k gold is pure gold 100% gold purity
We use recycled gold whenever we can—basically gold that has been reclaimed from a number of post-consumer sources to reduce our impact on the environment.
Awesome alternatives
Instead of white gold, our go-to white metal of choice is sterling silver, which we mix with palladium (a sister metal to platinum) to give it a gorgeous, long-lasting luster. We also have oxidized silver jewelry to offer a metal with a dark, blackened finish—it's a very cool, edgy, "lived-in" look that people love.